>
>
How To Introduce Green Into Your Kitchen
Kitchen Trends
How To Introduce Green Into Your Kitchen
By Hanna Stensland-Bugge
5 minute read
Explore how you can introduce this season's green colours into your kitchen. With our best tips and inspiration, you can create your green kitchen in hues and shades to fit your style and preference.
Isabella Keziah, Kitchen designer at Smile Kitchens, shares how to use the versatile shades of green in your home.
As summer fades and autumn approaches, our thoughts turn to our homes and spending time with family and friends. Maybe it's time to start that kitchen project you have been thinking of; after all, it's where we spend most of our time – whether it's cooking, family time or entertaining, particularly during the colder months.
The trend of bringing nature indoors continues to thrive, inspiring us to create a more natural and soothing environment in our homes. Isabella Keziah advises that green is one of the season's most prominent colours as it's a grounding colour, soft, easy on the eye, and drawn from nature- making it a beautiful way to bring the outside in.
Green has such a versatile range of colours and hues to consider: from the palest Eau-de-Nil, through Sage to Spruce to Forest Green, and everything in between, you are bound to find the right colour for you, whether it's for the cabinets, splashbacks, tiles or walls. Some greens have a blue/green tone, such as Meadow, shown below, and what you may not know is that we all see colour differently, especially the blue and green spectrum.
Image 1. Smile Kitchens Hampton in the colour Meadow is an intriguing blend of green and blue, showing how versatile the green spectrum can be. Image 2: A Smile Kitchen's customer has opted for our Vård Kitchen in the colour Grove which also blurs the lines between green and blue.
Contemporary or Classic Design – You Choose
Consider something like this dark green kitchen accentuated with grey undertones for a dramatic and bold interior style. This space is perfect for contemporary settings and pairs well with clean white marble-effect countertops against glass splashbacks or classic ceramic Metro tiles. Add chrome brassware and funky stools for an industrial vibe.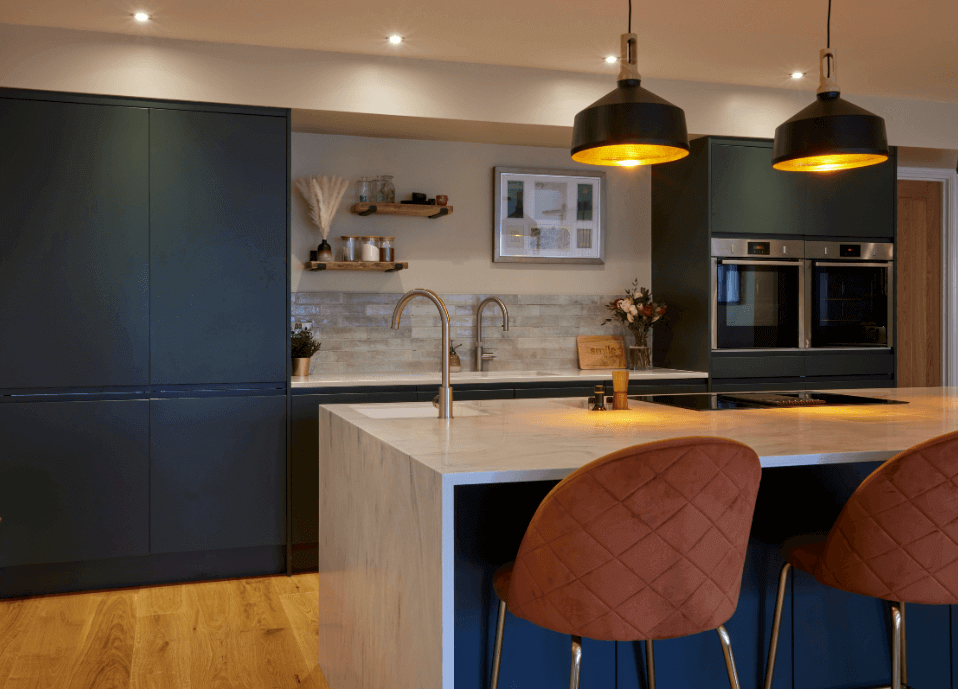 Smile Kitchens Jasper in Grove 
Take our Vård range in the colour Eden that embodies this industrial look. Even though it has a Shaker frame, the clean lines work well in a loft-style apartment, enhanced by grey concrete walls or exposed brick and a dark ceiling.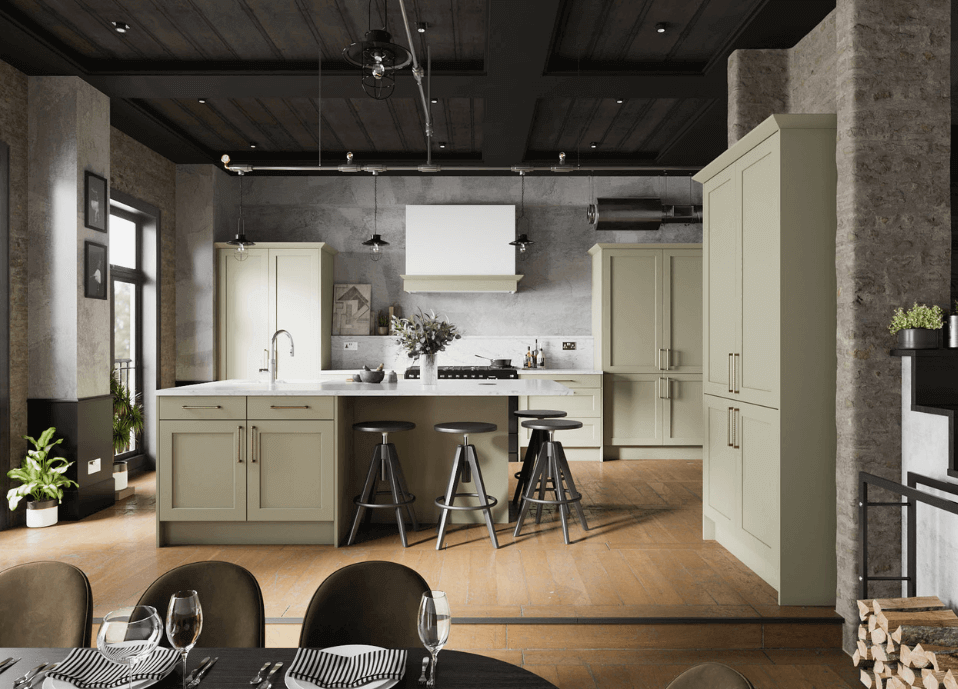 Smile Kitchens Vård in Eden brings to life this shaker-industrial hybrid kitchen
For a more traditional green kitchen, choose shaker cabinets and add wooden worktops for a natural look. Complete with brush brass handles like our glamorous Luxe takes with knurled, ridged textures or long, slim Henry handles for an understated and sleek look.
One of our newest additions is our forest green kitchen, Hjerte, in spruce green. This range is made in a farmhouse style and has a hand-painted look for that rustic countryside feeling. Complete with round and bar handles for an organic feel and finish off with marble-effect worktops for a modern touch or wooden worktops for a traditional look.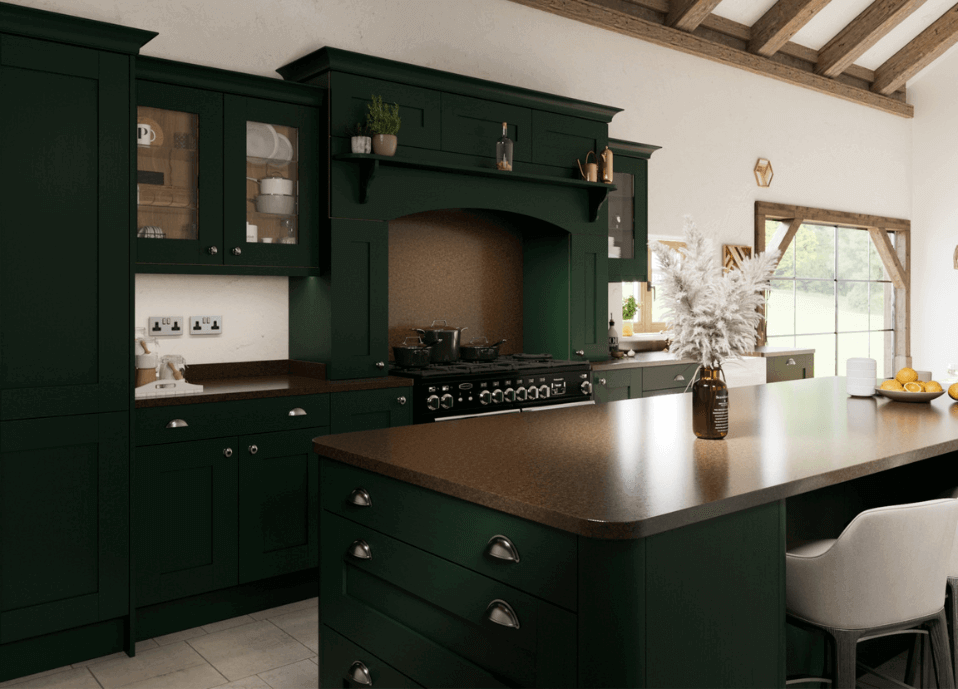 Hjerte in Spruce green.
This room is painted in a barely-there green, perfect if you want a neutral look but with a hint of colour to add interest. It's a light and airy expression that works well with either contemporary or traditional furniture. Pair the sage green kitchen cabinets against marble effect splashbacks and stainless-steel appliances with pale wood furniture for an upscale and harmonic kitchen.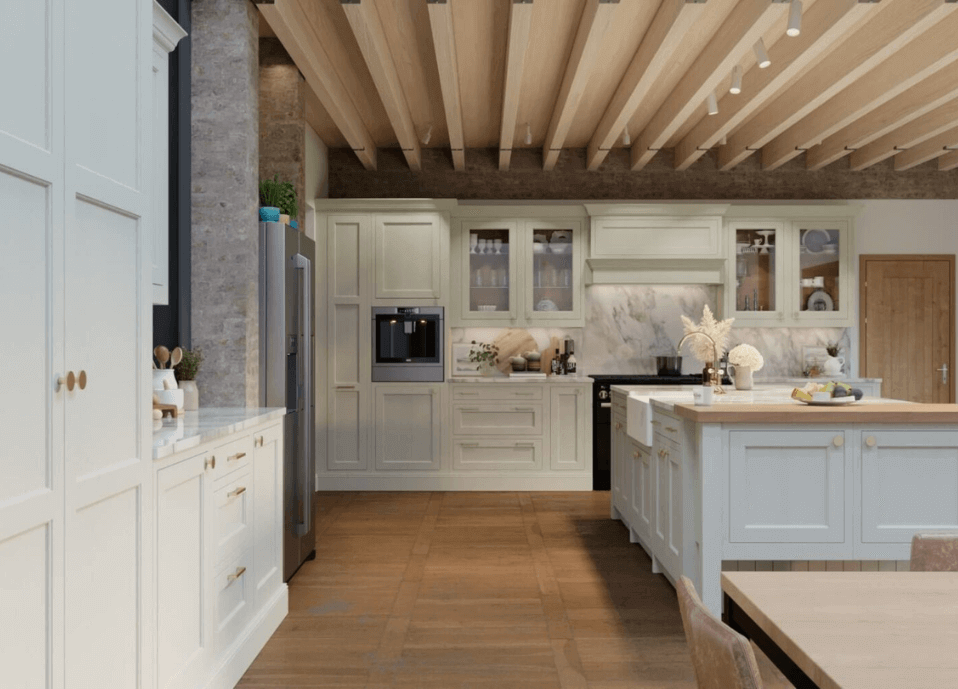 Hampton in the brand-new colour Sage has the subtlest hint of green. A classic design like this suits all styles of homes. The island is the hero – the perfect preparation space.
If committing to an entirely green kitchen feels too big of a commitment, consider introducing a green kitchen island, like this Linje true handleless kitchen. It combines different materials of textured wood against smooth handleless cupboards, creating an eclectic style that cleverly separates the working kitchen from the dining area.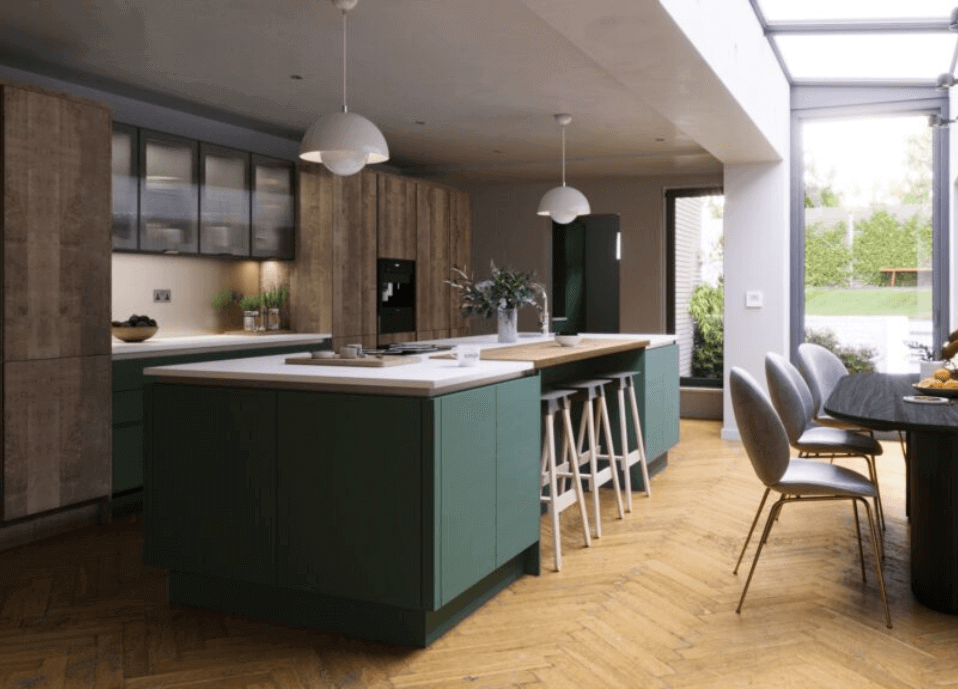 Linje in Plank and Grove mixes different materials to create a warm and inviting look. The tall wood-effect cabinets are the perfect backdrop to the island's clean lines and crisp colours.
Introduce Green with Tiles and Paint
Green cabinetry is not the only way to introduce this all-around colour; think about the walls and floor too. Smile Kitchens are proud to partner with Baked Tiles Co, which specialises in high-quality tiles in various colours and designs. Their Little Italy range includes this beautiful, green, rippled tile which gives an undulating, watery effect incorporating different green tones. This style would work well in a classic or traditional kitchen; for a more contemporary look, choose flat, matt tiles in either rectangular or square, or matchstick tiles in a vertical pattern.
Little Italy Green Tiles by Baked Tiles Co
An instant and inexpensive way to add green to your kitchen is with one of the many green paints around, and there are so many to choose from. There is bound to be one to suit.
Combining Green Tones
Contrasting shades of green such as mid and light tones, on the walls offer a pleasing palette of complementary colours. Many paint brands have varying strengths of each shade, so why not choose one shade for the upper part of the wall and a darker shade for the lower leg? It's also great if you need help deciding which colour you prefer! The door frames, woodwork or shelves could be painted a darker green.
Try two tones; Upper wall: Aquamarine Pale; lower wall: Aquamarine Mid both Intelligent Matt Emulsion £59.50 for 2.5L; worktop: Livid Intelligent Satinwood, £83.50 for 2L – From Little Greene
Think About Green Accessories
If a green kitchen is too far, simply add green accessories and live with them for a while to see if you like them. Utensils or storage jars, pans, cookware, bowls, vases and plant pots, or artwork with green in them are inexpensive ways to add colour without making a big commitment.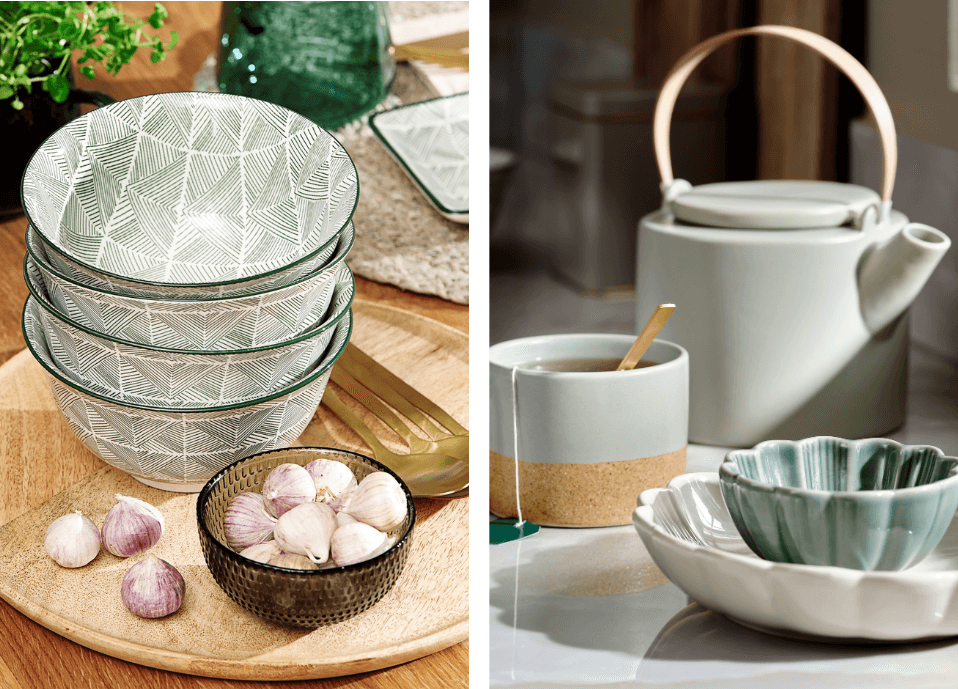 Green accessories from Danish retailer JYSK add a pop of organic greens in the kitchen.
Check Out Our Latest Green Shades
We now offer many more green kitchens in our ranges. Check out Hjerte and Vård in Eden, Spruce and Meadow and Hampton in Sage and Meadow. These shades join our existing greens of Eden and Grove for a broader choice designed to suit all tastes.
Explore our kitchens here or book a design consultation to get started on your kitchen journey today.
Featured in