>
>
Japandi Kitchen Design: Our 6 Best Kitchen Styling Ideas
Kitchen Trends
Japandi Kitchen Design: Our 6 Best Kitchen Styling Ideas
By Zahraa Khan
4 minute read
Discover the refined and harmonic style of the Japandi kitchen. From natural textures, earthy colours and wooden panels - Explore how you can incorporate this fusion of Japanese and Scandinavian design.
What Is Japandi Style?
Experience the enchanting blend of warm natural materials and minimalist Japanese design in Japandi kitchens. This captivating interior style has won the hearts of interior enthusiasts worldwide by uniting the graceful principles of Japanese design with Scandinavian practicality. The result is a fusion of form and function that endures the test of time.
Be inspired by our top Japandi kitchen ideas that will elevate your space and infuse it with harmonious tones. Read on to learn how you can embrace this unique design trend and cultivate the same environment in your kitchen.
1. Natural And Warm Materials
Creating a Japandi-style home is all about skillfully blending natural and neutral elements into a cohesive and balanced design. Incorporating raw, organic materials such as wood, stone, and glass will add visual contrast and texture that are the cornerstone of this design aesthetic. Pair them with subtle colours and accessories to really maximise the Japandi feel, like this
Jasper in Eden
2. Experiment With Textures
Add dimension to your space through the use of different textures. Think about how you can add these textures to your home with cabinet finishes or through accessories and furnishings such as curtains, blinds, and rugs.
We often overlook soft furnishings in our cooking space, but they can really help add depth and warmth. The trick is picking durable materials that can withstand daily use. Small details like adding a long flowing curtain to a patio door, a textured rug under your dining table, or a woven runner to your table can really elevate your kitchen and help bring in more elements of Japandi style.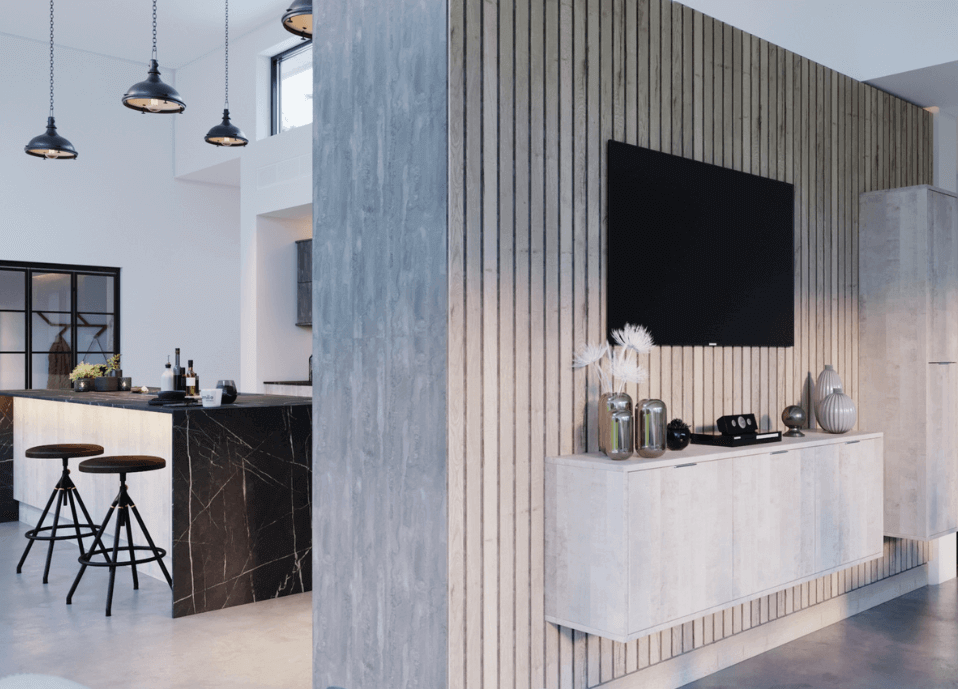 Lofte in Bark and Concrete
Take inspiration from this Lofte room, a fusion of industrial meets natural for a more modern interpretation. This kitchen island has been designed with dramatic marble cabinetry that demands attention, contrasting against natural wood grains that balance with the warmth and harmony of Japanese design.
3. Subtle Patterns
Consider mixing minimalist patterns. However, it's all about simple and subtle patterns rather than clashing bright and bold ones. Consider using lightly patterned tiles or kitchen splashbacks that are simple yet effective ways to change the atmosphere of your cooking space that are easily interchangeable, allowing you to mix and match without overpowering the room or detracting from your furniture.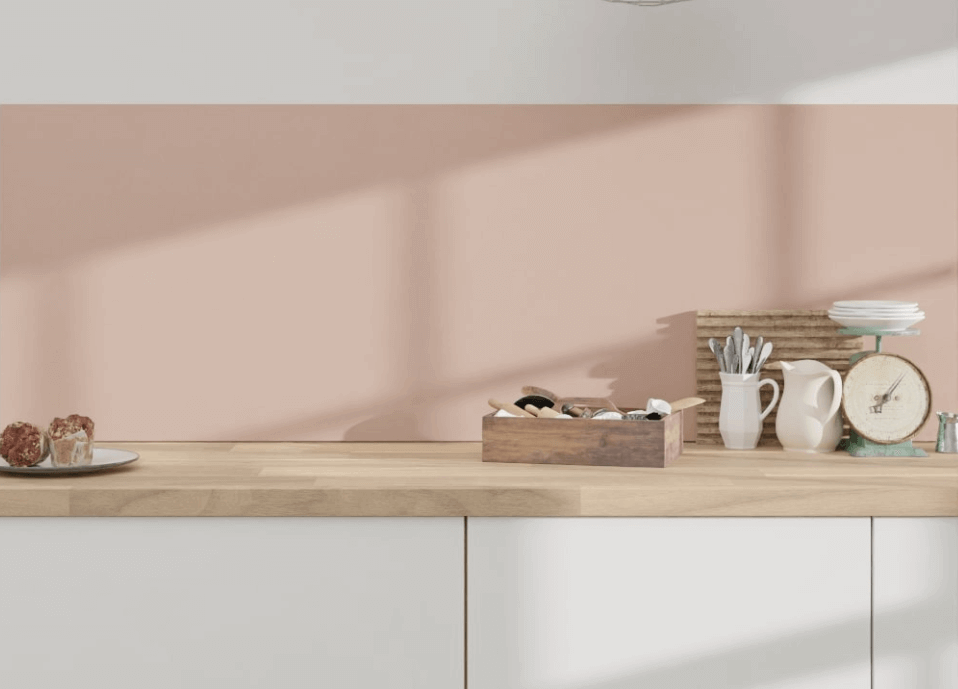 Splashback in Blush pink
4. Earthy Tones
Try combining various earthy tones to add warmth and cosiness to your home. This will create a feeling of calmness and tranquillity that is key to the Japandi kitchen. Begin by laying a foundation of colours in the same hues but different shades. Layer them against each other to achieve a dimensional look with depth and interest.
Take this true handleless kitchen created in a sleek and seamless design. This Linje range embodies a grounded and inviting atmosphere with cabinets in the colour Tusk, a warm beige complemented with bark panels.
Linje in Tusk and Bark
To achieve this look, start by choosing cupboards in a neutral colour scheme for your base and contrasting them with wooden panels for your kitchen island. This will add a subtle contrast that gives a cosy but curated look. If your room opens to an outdoor patio or garden, even better! You can seamlessly blend the inside and outside spaces, blending outside and inside lines.
5. Invite The Outside In
Introduce organic and natural decor, like green plants, to your space to help bring nature in. This interior style thrives on the use of plants and greenery to create serenity within the home. Use potted plants and flowers or stems in vases. Think about the tone and texture of your pots and vases, make sure they work with your colour scheme, and add something to the space.
6. Declutter With Storage Solutions
Embrace natural elements of simple living made popular in Scandinavia. This means keeping your space clean and decluttered. Designing clever storage solutions like shelving systems, larder units, or a corner pantry may also keep the space free of any unnecessary objects and clutter.
Japandi kitchens combine practicality and a tranquil ambience that inspires feelings of calmness. One way to achieve this calm atmosphere is by keeping your living space organized and clutter-free. We understand that staying organized can be challenging, but we are here to offer suggestions tailored to your specific needs to help ensure you get all the storage space you require.
Maybe consider a Butler's Pantry, pictured below, that allows you to store food, utensils, small appliances and crockery all in one easy-to-access space.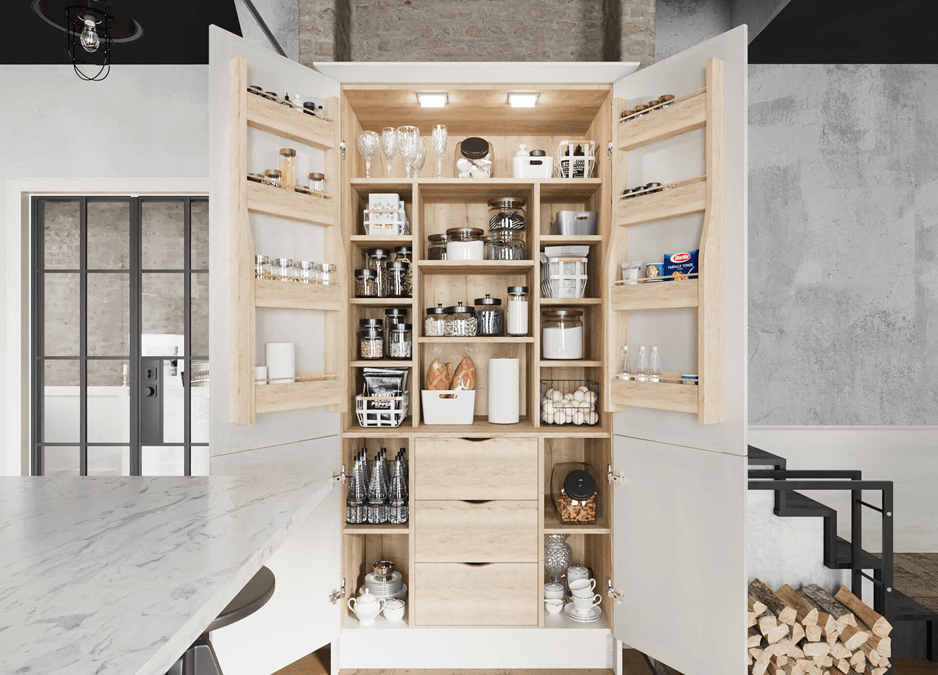 Feeling inspired to get started with your next kitchen? Get in touch today to book your online design consultation with one of our expert designers. You can use our free online kitchen planner and start your kitchen journey!
Featured in