>
>
The Biggest Kitchen Trends Of 2023
Kitchen Trends
The Biggest Kitchen Trends Of 2023
By Hanna Stensland-Bugge
6 minute read
Read our trend forecast and discover the biggest kitchens trends 2023-2024. From on trend kitchen styles and colourful kitchen shades to the most popular storage solutions and cabinet handles of the year.
Last year saw a steep rise in maximalism and deeper use of colour as we have become more adventurous and more driven by how our home makes us feel. We've spent a lot of time in our homes over recent years, and for many of us, that will continue as the temporary work-from-home agenda has become the norm. More of us are playing host and planning our parties, so what better time to have a home and a kitchen that is a statement, an aesthetic addition to our personality?
We're expecting to see a whole host of new things coming through and old things coming back again, but we've curated this list that we're confident we'll see for 2023:
Bolden With Black
We're going to see black grow that much more in 2023. Its brilliant boldness will bring more of us to the dark side. With advances in lighting and more of us shifting to open-plan living, we've got more and more opportunities for black cabinetry, worktops and more.
Vivid Colours
Accelerated further by the unveiling of the vivacious Viva Magenta, Pantone's Colour of the Year, the trend of bold-coloured cabinetry will hit new heights in 2023. We expect to see even more consumers stepping out from neutrality and into vividity. With the launch of our new colour match service, we're expecting to see some stunning colours come through from luscious lime tones to canary yellows, brilliant blues to bold oxblood reds. With the endless possibilities that come with our colour match service, which colour will you choose?
Utility Rooms
Utility rooms are transforming and we'll see their use extend to include things like food prep and storage too. Spurred on by the popularity of pantries and the desire to keep our kitchens clean and tidy, more of us will look to create additional storage space.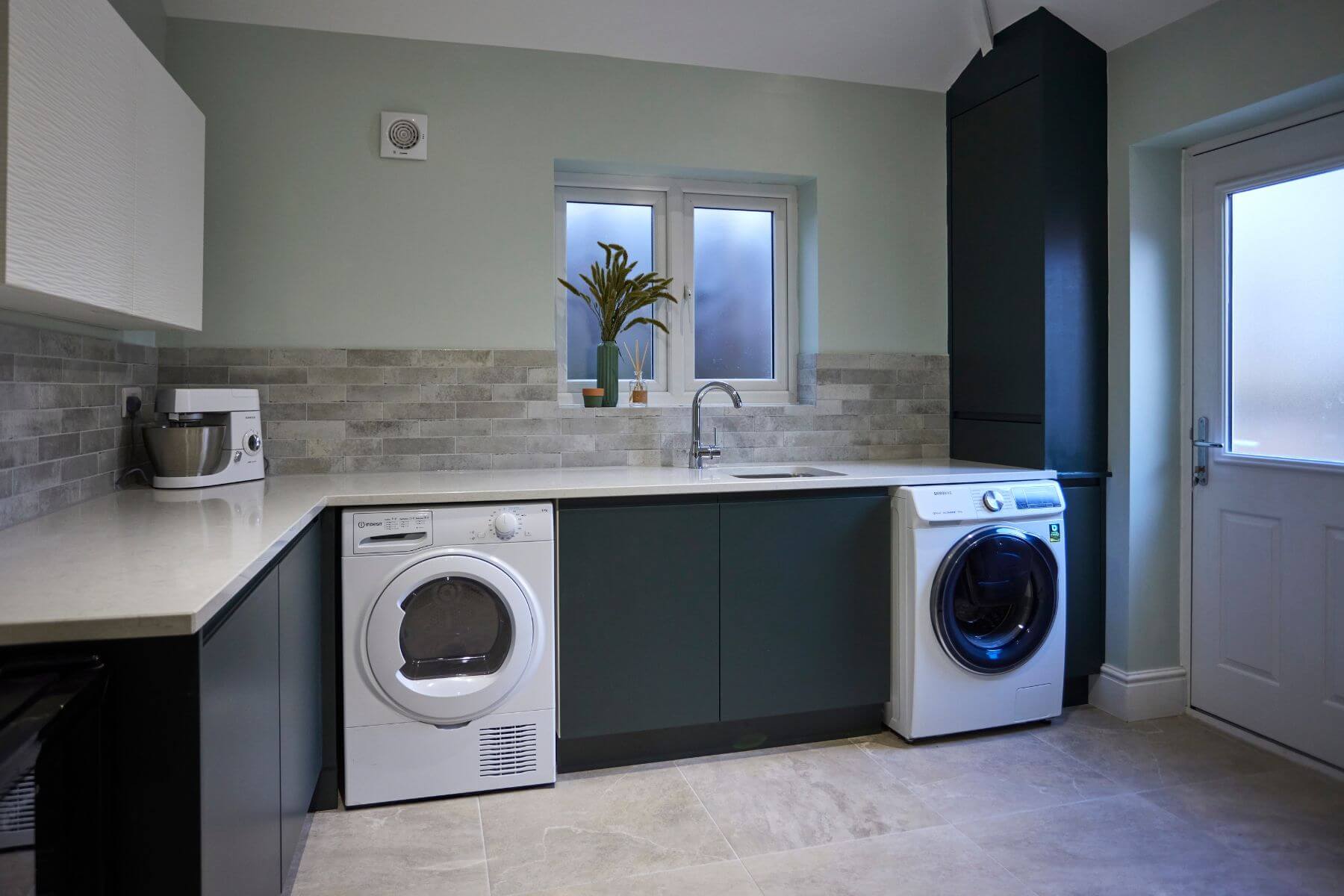 Statement Appliances
The last 20 years have seen a huge trend of appliances becoming more streamlined and more built-in. We expect to see a shift in this moving into 2023, we're expecting a more significant focus on statement appliances. Think contrasting range ovens, free-standing and colourful fridges and freezers and small appliances that steal the show.
Copper Sinks and Taps
With brass and gold finishes leading the way in 2022, we expect to see a new metallic finish lead the way in 2023. Copper will grow in popularity, with its ability to stand out and pair excellently with a lot of other bold colours. Incorporating copper finishes in your kitchen design can be done through handles, taps, sinks, or even lighting.
Open Shelving
Open shelving isn't new but is fast becoming the biggest trend in kitchens. We rarely design a kitchen now that hasn't incorporated open shelving in it somewhere. Open shelving allows you to show off your prized possessions but it also allows you to make your space feel bigger, more modern and more inviting. By reducing the amount of heavy cabinetry up top you create a calmer and more open look to your kitchen.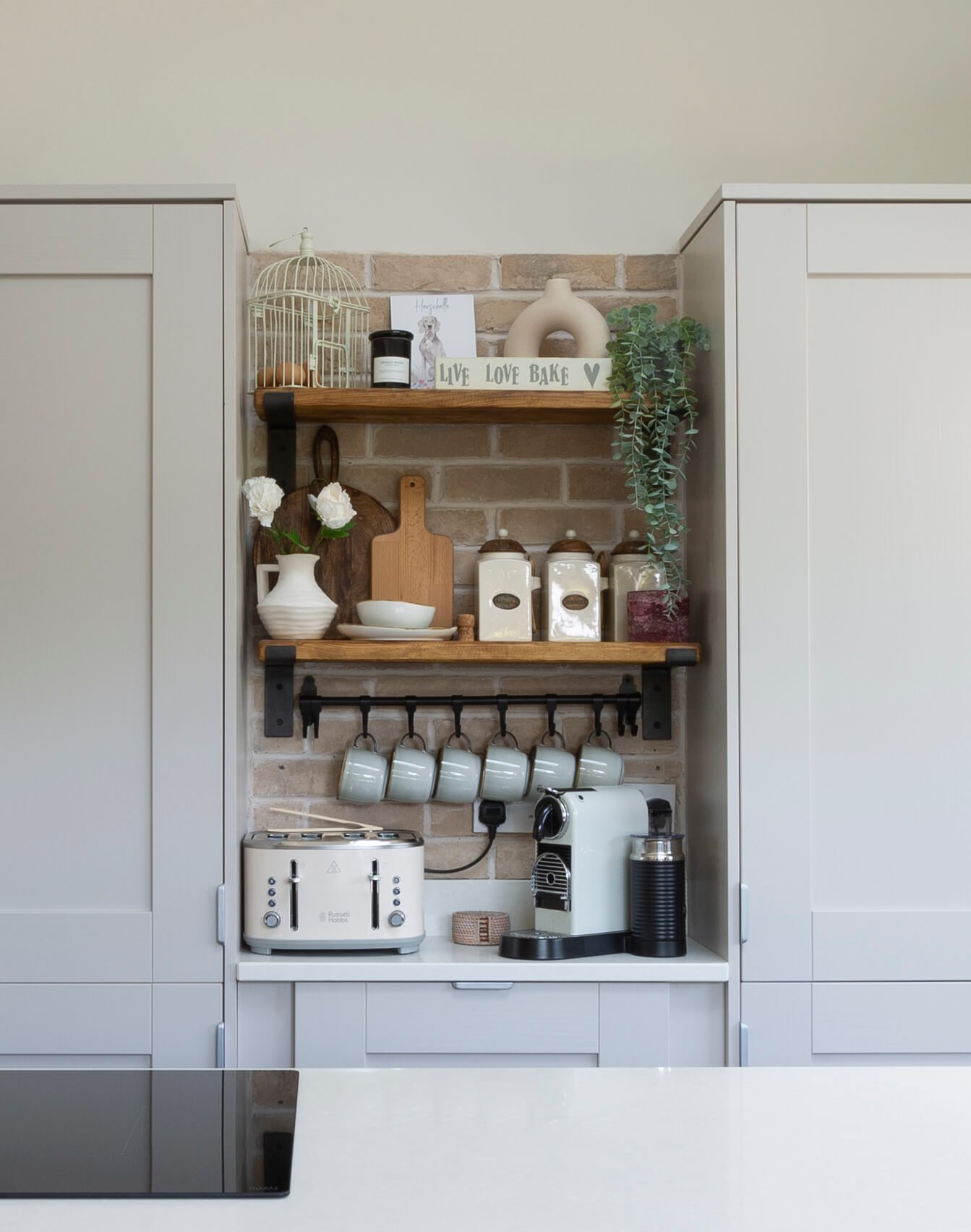 Catherine Seagrave, Design Director at The Living House explains further:
"Incorporating open shelving into the kitchen is becoming increasingly popular. It looks great to break up the wall units with shelves to give a more open feel. In particular, we love the look of reclaimed scaffolding plank shelves which work with every style of kitchen. They are a great place to style your accessories – showing off your favourite serving bowls, decorative glasses, cookbooks, and it always looks good with a plant or two!"
Matt Finish Worktops
We think 2023 will be the year of the matt finish worktop. With significant improvements in the quality of laminate worktops, they can now be a great and beautiful option in any space, and a matt laminate has a sublime look and finish. The matt finish also has a much deeper and richer feel to it and will be much lower maintenance in terms of constant wiping to remove fingerprints!
Explore our worktops for more inspiration.
Mixing Metals
Mixed metals were once seen as accidental or a flaw but they're fast becoming one of the hottest design trends in homes. We're expecting to see this trend continue to soar in 2023. Think brass handles with a gunmetal sink and tap, or chrome handles with a copper sink and tap. The key, really, is to pick finishes that contrast in the right way.
Catherine Seagrave, Design Director at The Living House says mixing metals is just the first step and that mixing your finishes overall is the way to achieve a beautiful and bold kitchen:
"A trend that is already loved but will continue through to 2023 is mixing finishes. Not everything needs to match! You can mix metal and natural finishes such as wood and marble. Be brave and embrace the eclectic look."
Extra Tall Cabinetry
Balancing aesthetics with storage, kitchens this year will be looking to make the most of their vertical space especially as we look to have more room for dining, clever storage solutions and appliances. That's why we expect to see more and more customers looking for extra tall cabinetry, to make the most of that additional space up high.
Organic Shaped Lighting
Ornate and organic-shaped lighting is fast becoming a staple in modern kitchen design. Lighting is key for helping you see a room in the right way but it can also add focal points and drama to your space.
Catherine Seagrave, Design Director at The Living House explains further:
"Lighting is so important in every room, especially in your kitchen. You can incorporate fabulous lighting into your kitchen above your island to really create a feature or perhaps a showstopper pendant light above your dining table to zone that area. Specifically, organic and curved shapes are highly on trend, whether that's in pendant lighting or a bobbin style table lamp, we're seeing them pop up everywhere!"
The Living House kindly gave us their thoughts on some of the must-have trends for 2023. They're a team of expert interior designers that can help you transform any room in your house. They offer affordable packages and can work to any budget, style or taste. As a Smile Kitchens customer, you get an exclusive 10% off all of their packages with code: TLH10 Check out their website for more information on how they can help you make your dream home a reality.
Featured in