>
>
The Ultimate Guide to Farmhouse Kitchens
Kitchen Trends
The Ultimate Guide to Farmhouse Kitchens
By Hanna Stensland-Bugge
4 minute read
Learn how you can introduce a countryside style with our guide to farmhouse style kitchens. From soft muted colours, natural elements and rustic touches, find our best tips to create a farmhouse kitchen here.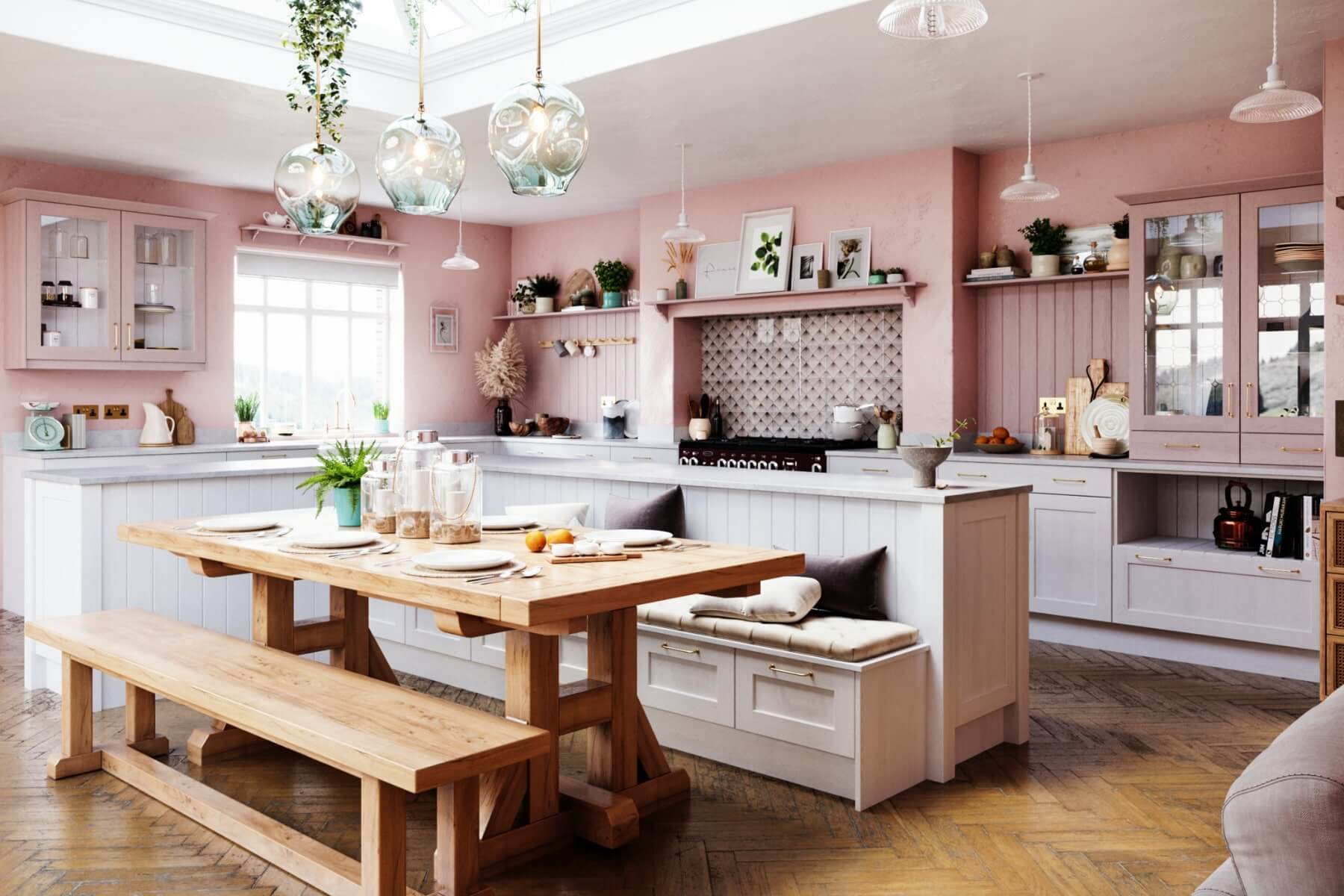 What is a farmhouse kitchen?
Born out of the classic kitchens of 1900s English farmhouses, farmhouse kitchens are traditional-looking kitchens that are warm, inviting, and unpretentious. They typically feature traditional rustic stylings such as shaker cabinets and natural materials, but today, modern farmhouse styling means more relaxed finishing touches, such as gloss finishes and neutral tones.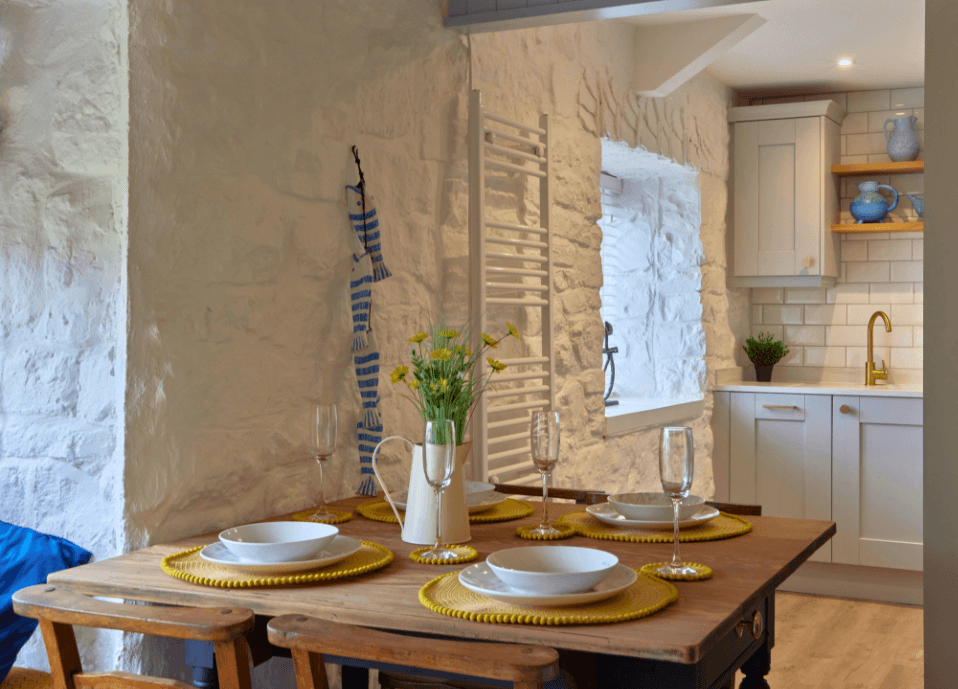 Hjerte in Tusk
What colours are used in a farmhouse kitchen?
The most popular cabinet colour for these countryside kitchens is white. Timeless, traditional, and simple colours are synonymous with rustic kitchen styles of the past. Consider our Pearl tone – a warm, rich, off-white colour that can be combined with any number of colours and textures. Neutral earthy tones such as off-white, beige, and grey work best at making rooms feel more inviting.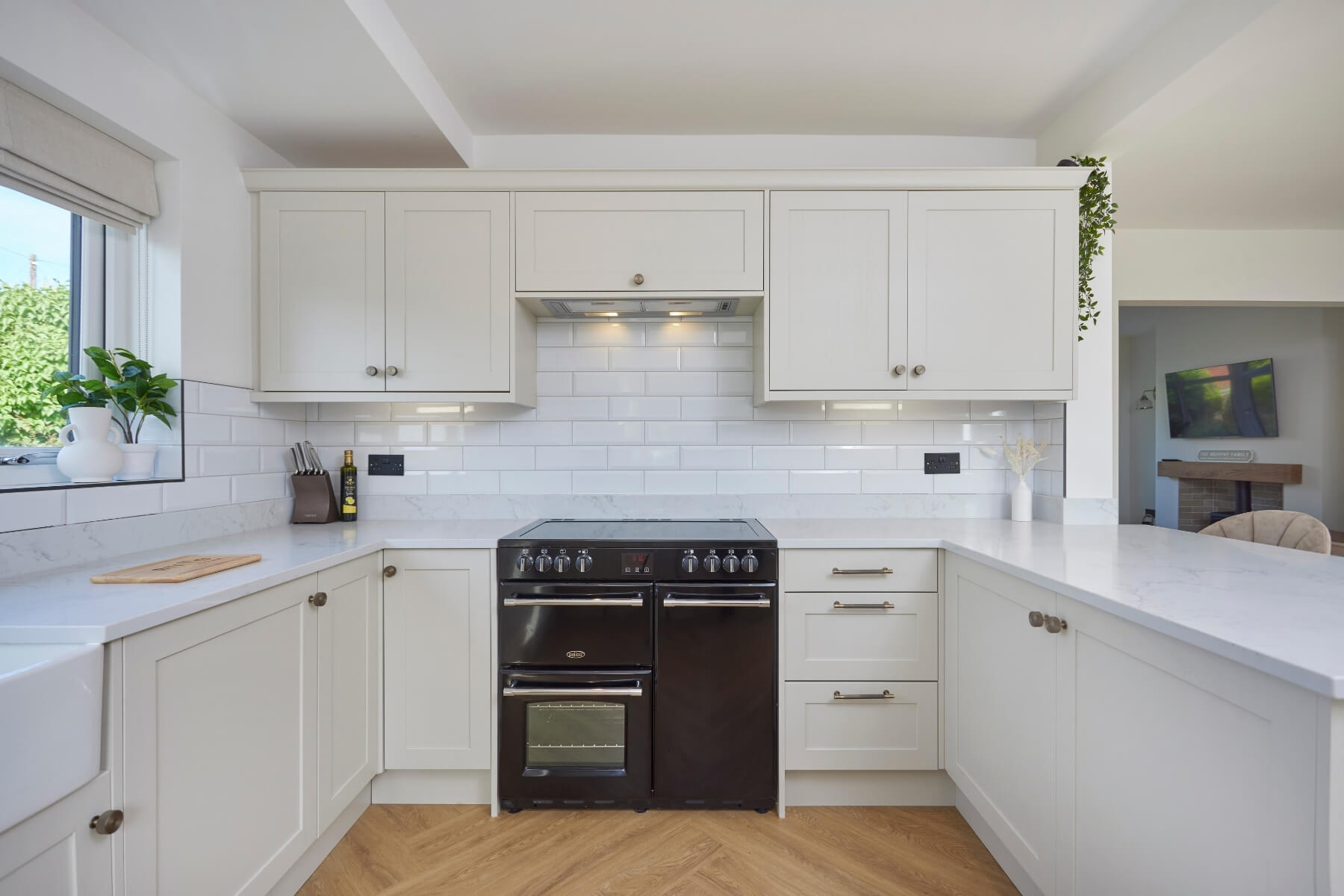 Vard Range in Pearl
A painted finish is key to any kitchen that you're looking to keep for the long term. They are beautiful because you can sand them down and repaint them whenever you want. You can experiment with colour over the years and still have a beautiful door underneath your paint!
Traditional Farmhouse Kitchens
For a traditional approach, embrace a rustic and unrefined design with cosy layers and personality. Incorporate shiplap textures, wooden worktops, and soft off-white and cream hues to evoke a sense of nostalgia and add contrasting patterns like plaid curtains and exposed brick splashback tiles.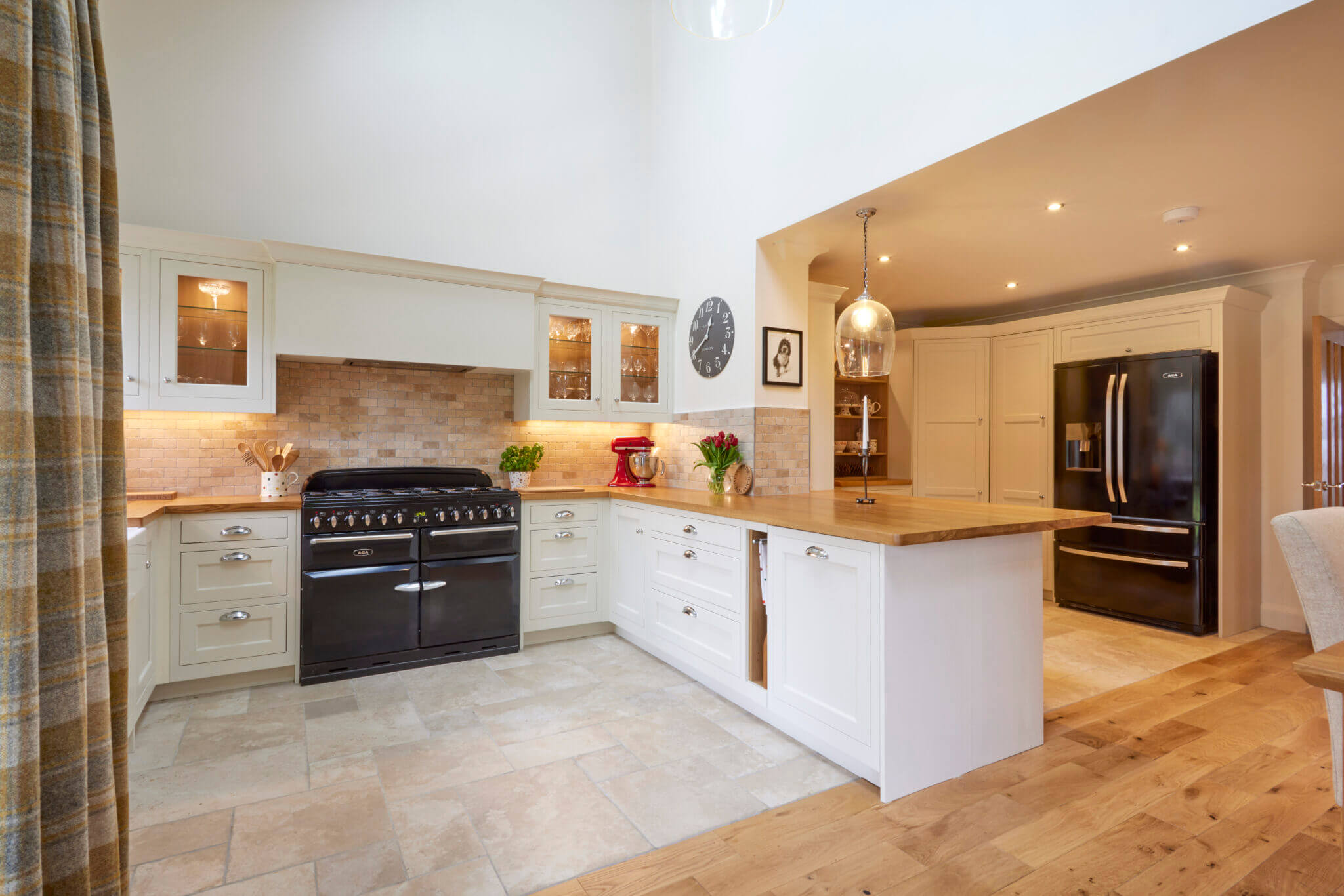 Hampton in Pearl
Take a closer look at this warm and inviting farmhouse style of our customers, David and Karen's kitchen. It's the perfect embodiment of traditional cosiness.
How to make your kitchen look farmhouse
Neutral-painted shaker doors, open shelving, a sprinkling of repurposed rustic pieces, and natural wood finishes typically characterise traditional farmhouse styling. There are plenty of different ways to incorporate farmhouse decor in your kitchen:
Shaker kitchen cabinets
Farmhouse kitchens are quality, solid and traditional. An in-frame kitchen ticks all these boxes and fits the brief perfectly. Our Hampton range is a great example of an in-frame kitchen with solid timber doors and beautiful little details. To provide an instant feeling of an old farmhouse, choose Hampton.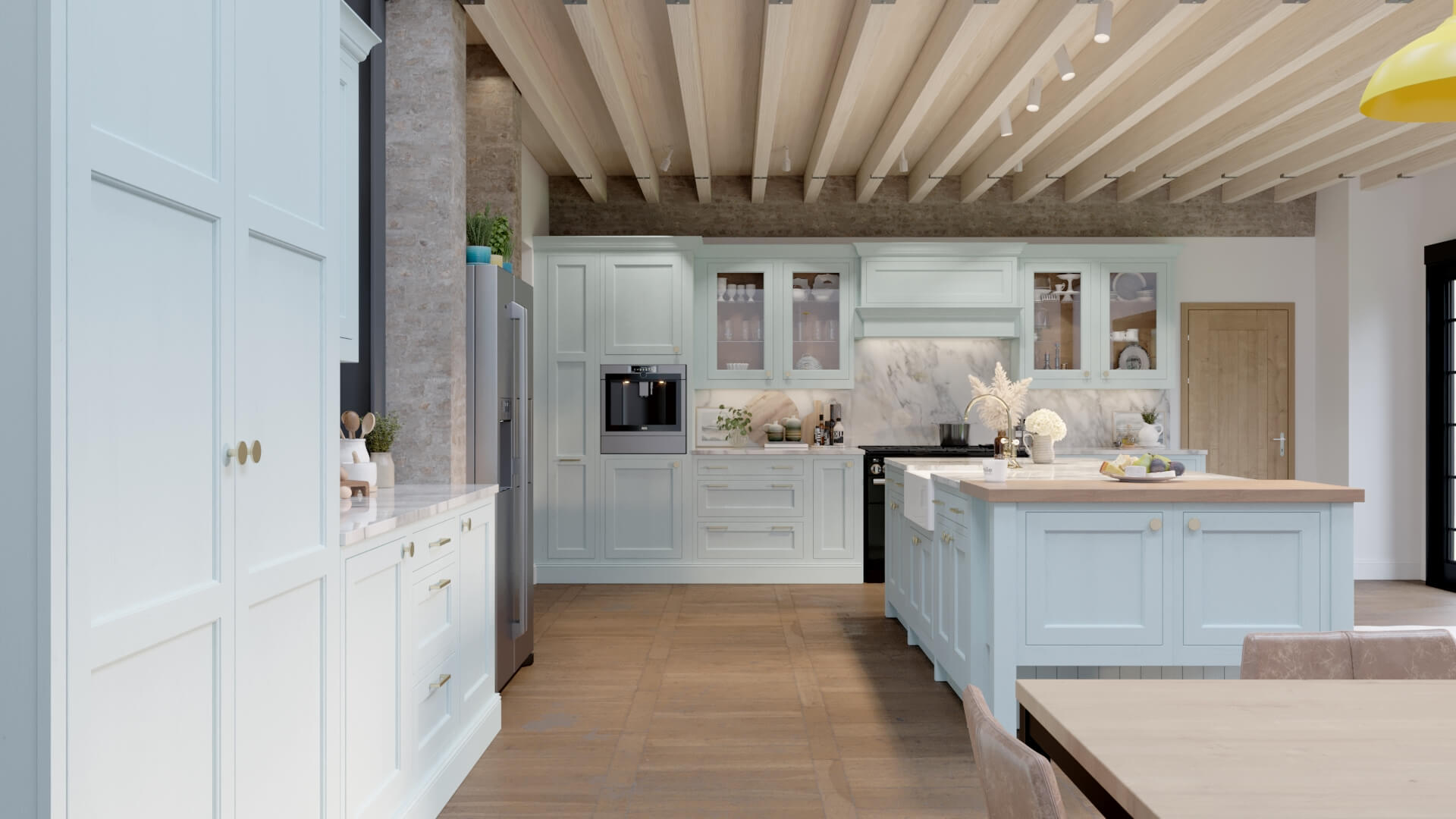 Hampton in Sky blue
Consider a shaker cabinet range instead of the in-frame if you want to keep costs slightly lower. You'll get a very similar look for a much more reasonable price. Our Vard range comes in all the same colours as our Hampton range too, and still comes with a solid timber door and painted finish!
Vard Range in Doll & Tusk
Embrace natural elements
Classic farmhouse kitchens always have a warmth and a wooden aspect to them. This look can be brought into your kitchen in a multitude of ways by exposing wooden beams, opting for an Oak internal cabinet finish, using oak wall shelves, or choosing a solid wood worktop. Wood-effect laminates are a great, cost-effective way to achieve this rustic look for less. Displaying nostalgic personal items on wooden open shelving can help create a warm and inviting kitchen and provide an easy way to change the look of your neutral kitchen with accessories.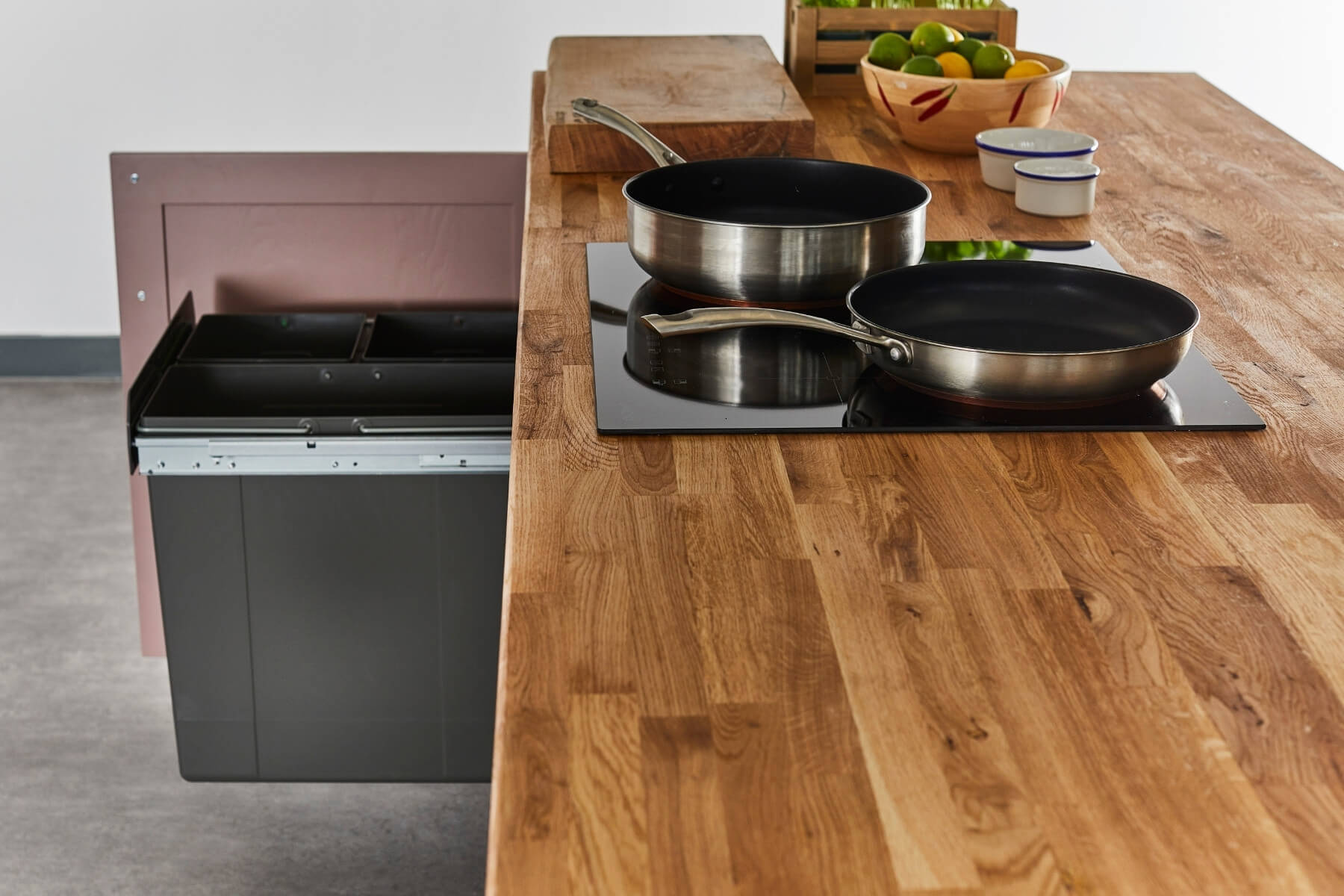 Solid Wood Worktop in Oak
Freestanding appliances
Adding a range cooker is also a charming feature that can enhance your home's rustic aesthetic. Freestanding appliances act as a design focal point in the cooking area, adding an air of old-world luxury. Range cookers are worth the investment, with up to 50% more space and a broader range of features than built-in ovens. This makes time spent in the kitchen more exciting for baking enthusiasts or home chefs who enjoy spending time in the kitchen and want an all-in-one appliance with ample space to cook for those large family gatherings.
Consider framing them with units, stud walls, or a mantel to enhance their appearance. Traditionally, range cookers were placed under a chimney breast, but other ways exist to make them stand out and display accessories.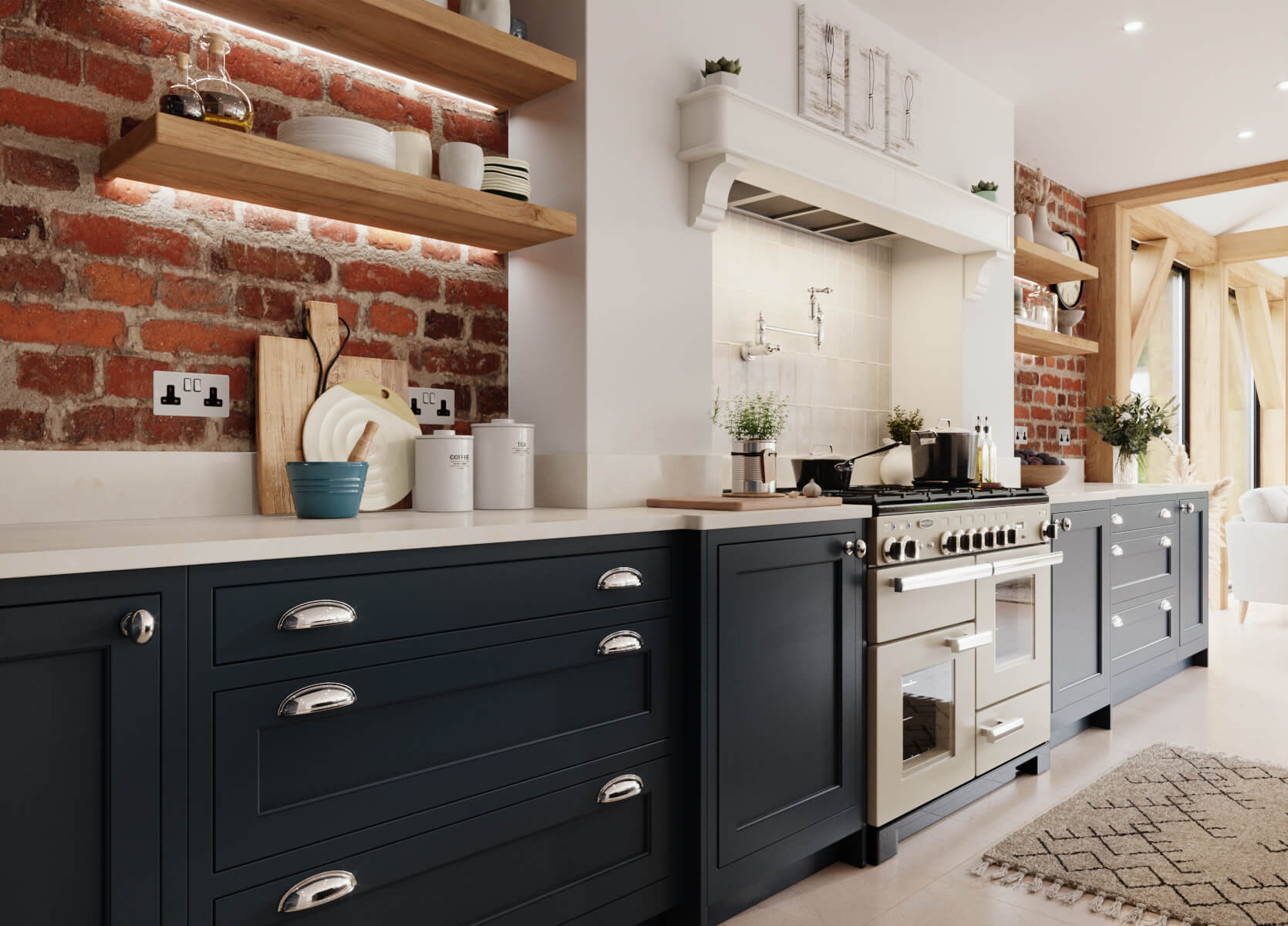 Hampton Range in Duke, complemented with a free-standing range cooker.
Smile Kitchens has teamed up with AO.com, the top electronic and appliance retailer in the UK, to offer a diverse range of ovens, including freestanding ovens and other cooking essentials.
Butler Sink
Butler's or Belfast sinks are a brilliant way to bring through the vintage feel that is synonymous with farmhouse kitchens. A classic and beautiful addition to any kitchen, they'll really add to your space and add a tonne of character!
Belfast 100 Sink, Solid Oak Worktop, Kalix Gold Tap, Vard Range in Doll
Include an island
A hive of activity and socialising, islands are great, assuming you have the space. An island is now one of the most requested items in any kitchen. But islands were originally born out of the farmhouse style, so they're a great way to add that farmhouse vibe to your kitchen.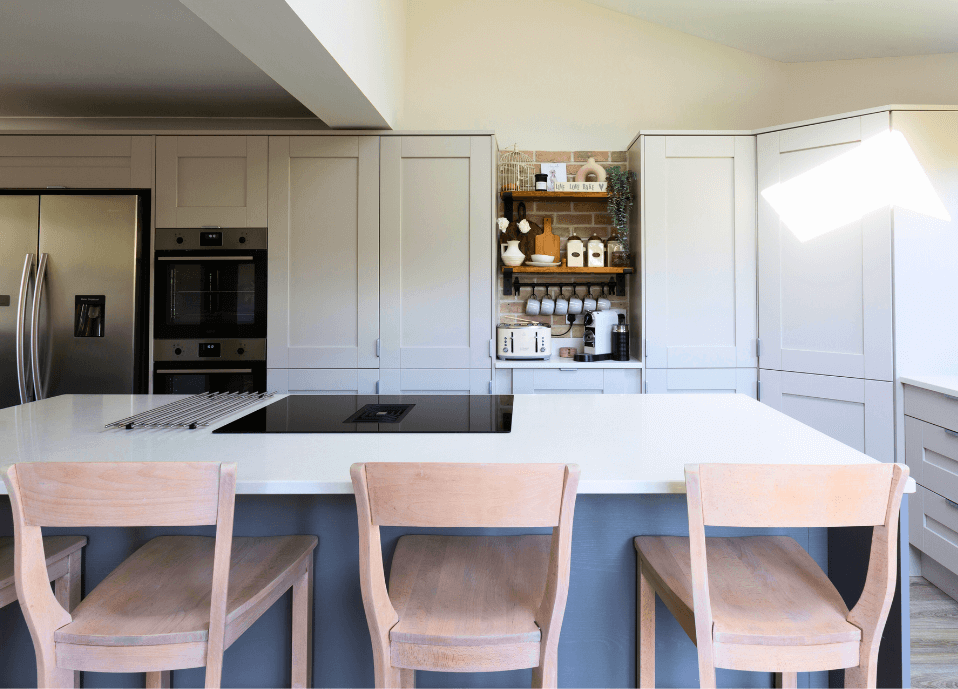 Hjerte in Moon and Clay
Featured in