>
>
How To Design A Scandi Kitchen
Design Advice
How To Design A Scandi Kitchen
By Fraser Allison
4 minute read
Transform your home with a cosy and inviting Scandi kitchen. With valuable advice and insights from our designers, you can transform your home with a warm and practical Scandinavian kitchen that you'll love spending time in.
What is a Scandinavian kitchen?
Originating in Scandinavia, the Scandi kitchen style is described as a minimal, sleek interior design approach that combines functionality with beauty. Here at Smile, we feel connected to our Nordic neighbour's aesthetics and attitudes. We live by the Danish 'hygge' – bringing a sense of comfort, cosiness, and contentment to all of our spaces. So much so that most of our kitchen range names come from Nordic languages!
Neutral tones
Every element of a Scandinavian home is designed to maximise the feeling of light with clean lines. Choosing light, neutral tones that reflect light for your kitchen cabinets is the perfect way to create a calm, relaxing feeling in your kitchen.
Muted and subtle tones work beautifully with a Scandi Kitchen. Whether it's a dusky pastel pink in our Doll, the light and airy blue of Sky, or the warm earthy pastel green of Eden, pastel tones are perfect for a Scandinavian kitchen design. Balance them against neutral colours with black, white, and natural shades. Take this wooden Scandi kitchen from our Jasper range in a natural beige finish.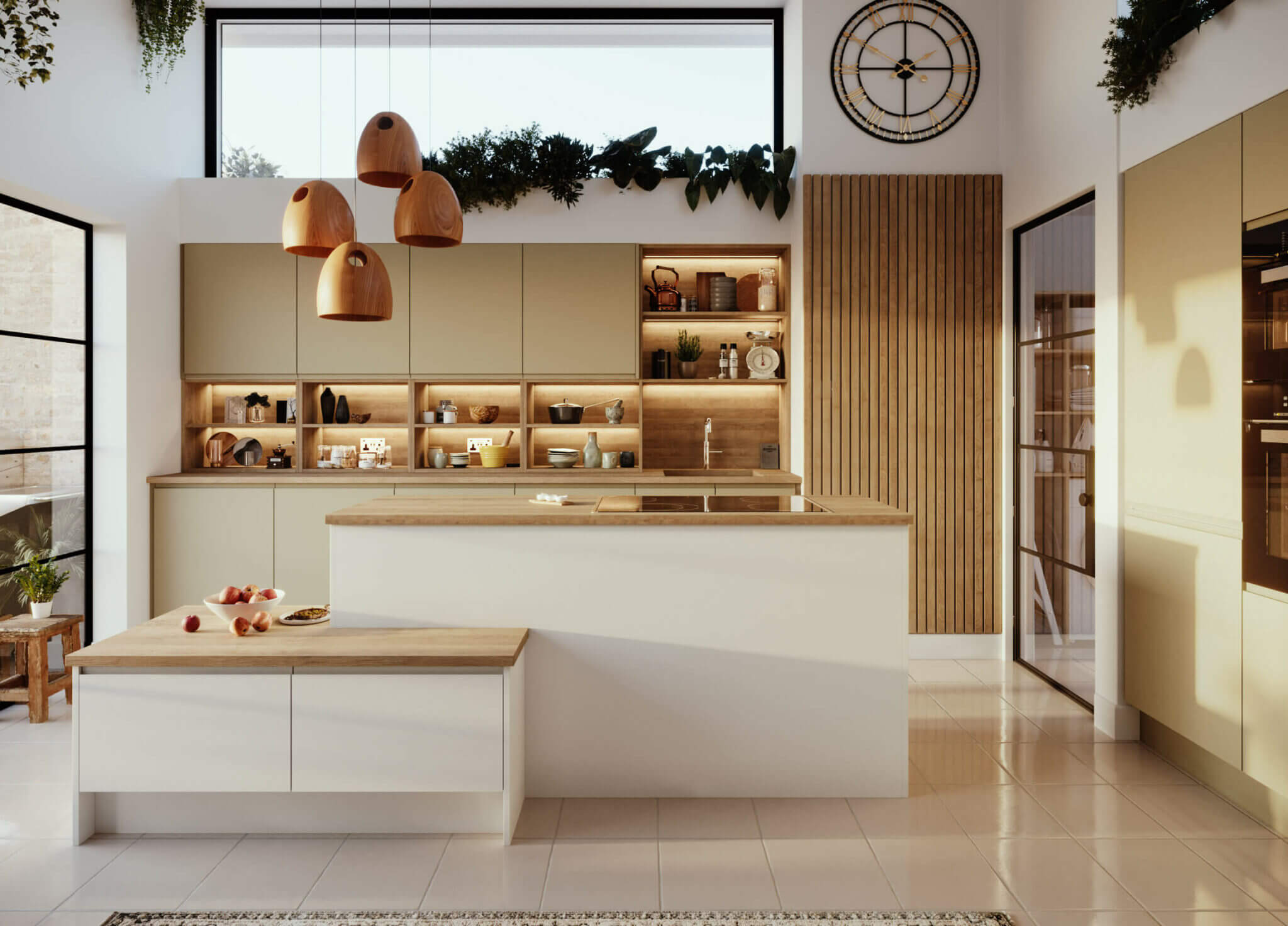 Open up your shelving
Scandi kitchens tend to be clutter-free but are also known for being welcoming and sociable. Floating shelves are a functional yet beautiful way to display homely touches, such as treasured photographs of loved ones and plants, helping to make your kitchen warm and welcoming. If there's one thing we can learn from the practice of Hygge, it is to surround ourselves with items that make us feel happy. You could also add panelling or hooks to give you more space for your decorative items.
Natural elements
Incorporating natural elements like wood and metallic accents will introduce warmth to your Scandi kitchen design and unify the look. If you're feeling brave, why not opt for a wood effect door from our Löfte range? Or, if you're looking for something a little more subtle, consider a wooden or stone worktop. Layering wooden accessories such as chopping boards is also a great way to do this.
Wooden floors are a staple in Scandinavian interiors. They add instant warmth and cosiness to any space. Specifically, look for a lighter wood like oak to provide a timeless and calming aesthetic.
Add monochrome moments
Monochrome colour schemes scream Scandi design as they pair minimalism with functionality and cosiness. Pair blacks and whites with wood tones, linens, and warm neutrals to get the look. Or go one step further and pair wooden doors with black ones and a white stone worktop.
Let the light in
Scandinavian homes see a wealth of natural light in summer and very little of it in winter. That's why their homes have so much glass to make the most of the light all year round. Think of large skylights and windows as well as glass doors. For a truly Scandi feel, pick a black trim over the traditional white.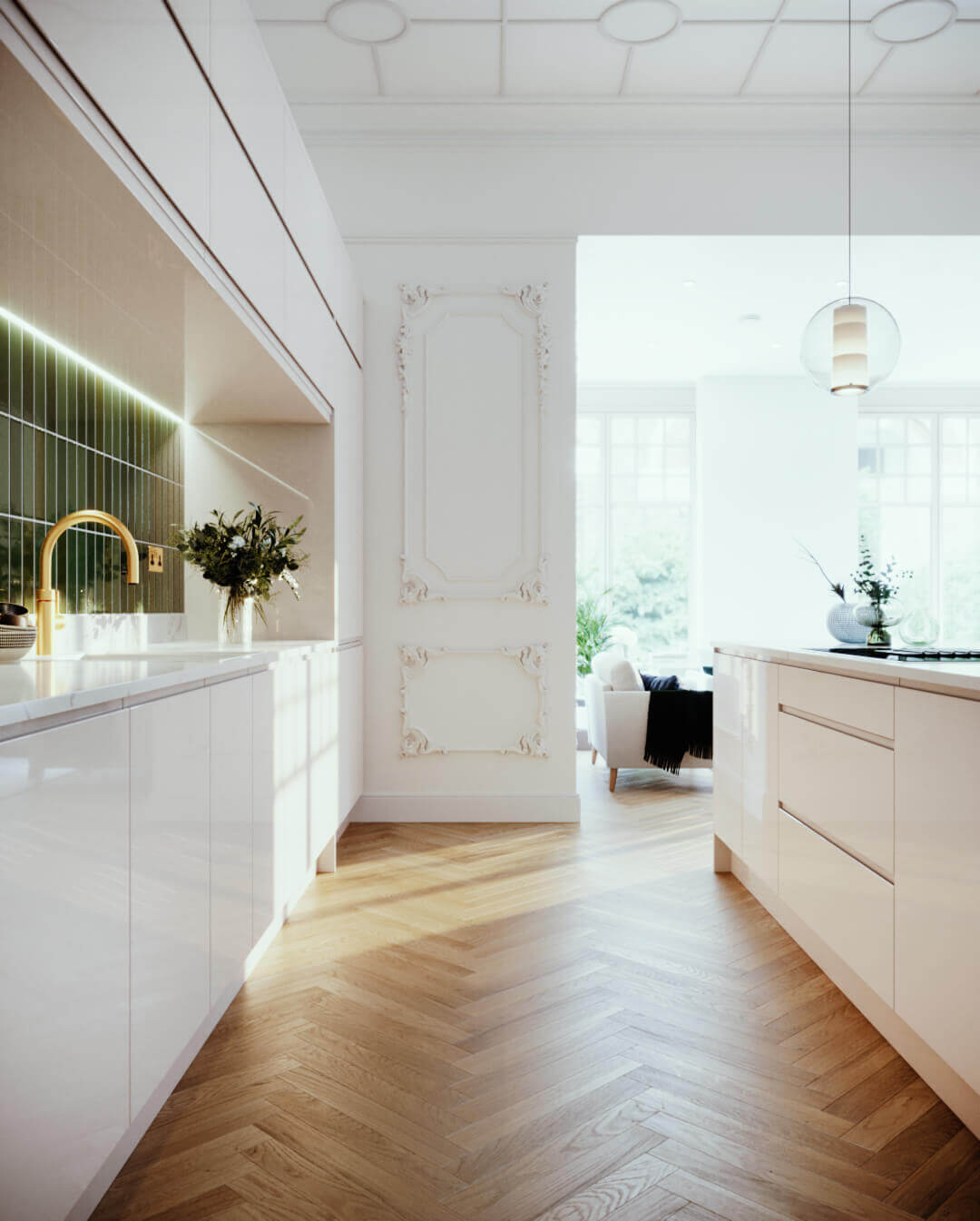 Smart storage solutions
Every design choice in a Scandinavian kitchen should be intentional, so you really need to think about clever storage solutions. Whilst you'll want your everyday use and more aesthetic items on display, keeping everything else hidden will give you that Scandi look. Consider floor-to-ceiling cabinetry or a large larder or pantry unit with plenty of storage to allow for maximum storage. Check out this beautifully stocked pantry pictured in Pearl from our Vard range.
'To get a Scandi storage feel, I always recommend stocking up on some glass containers from your local homeware or bargain store. Then, decant your food and cleaning items into them. You'll be surprised how much calmer your cabinets will feel afterwards!' – Dawn Filkins, Head of Creative at Smile Kitchens.
Pairing your glass containers with wooden shelving or cabinet internals really helps to add warmth to your space.
Designing your Scandi kitchen
If you're looking to get started with your new kitchen design, feel free to get in touch with our design team and we can help you design your dream Scandi-style kitchen. Use our upload tool to send us any inspiration and plans and we'll be in touch soon.
Featured in