>
>
How To Refresh Your Kitchen For Spring and Summer
Design Advice
How To Refresh Your Kitchen For Spring and Summer
By Hanna Stensland-Bugge
5 minute read
Transform your kitchen into a bright and romantic haven this spring and summer season. Discover the latest kitchen colour trends and colour kitchen ideas that will breathe new life into your cooking space. From worktops and backsplashes to decor, small changes can make a big impact on the ambiance of your kitchen. Bring the refreshing colours of the season into your home and create a space that inspires creativity and relaxation.
As we embrace the warm temperature and brighter days of the spring and summer seasons, refresh your kitchen with vibrant and saturated colours bouncing from the warmth and light outside and into our cooking space. Whether you are looking for the next renovation project or simply searching for creative ways to incorporate contemporary styles, knowing where to start can feel daunting.
Therefore, we have compiled this season's biggest spring and summer kitchen trends. Inspired by the blossoming spring and balmy summer weather, discover how you can transform your kitchen into a refreshed, inviting atmosphere with enhanced natural materials and colourful finishes.
Include natural and organic style worktops
This season is about opening up our kitchen spaces and blurring the lines between indoor and outdoor living. This creates a seamless transition between the two for an open, natural space.
More than ever, we are looking to rekindle our connection to nature and our surroundings. Organic and natural materials are back on our radar and make for a timeless look that never goes out of style. A simple yet effective upgrade is switching your countertops.
Start with wood, stone, or granite that anchors your kitchen and creates a tranquil atmosphere. With a wide selection, we offer a range of styles that can help you achieve this. Consider rustic shiplap woods like our Beached Wood or Caramel Bamoo for a pastoral flare. In contrast, swirled marble patterns like our Imperiale and Grey Stone worktops add an elevated and luxurious look.
Explore our wide range of worktops HERE.
Soft and colourful cabinetry
Another way to revitalise your kitchen this summer is to include bright and muted accent cabinetry. Adding lighter hues will brighten and make the kitchen feel larger. Especially if you have darker floors or limited natural lighting in your cooking space.
Rustic English Gardens
Inspired by the rustic English countryside, this season celebrates nostalgic English gardens with delicate and muted colour palettes like dusk pink tones, clay beige, and muted eggshell blue in the kitchen.
These add a nurturing and calming framework that evokes a distinct personality. Our clay-coloured Hjerte cabinets add a traditional and grounded atmosphere. For a brighter, light-reflective hue, we recommend our in-frame Hampton cabinets in Spring Blue. And finally, consider our shaker-style timber cabinets Vård, in Doll Pink, for a feminine touch.
Explore all our kitchen ranges HERE.
Green Staple Colours
For a grounded and more direct link to nature, 'kitchen designs are moving away from neutral palettes and going green instead, for a calming effect', advises Bamboo interior design. Green has been in high demand for its incredible versatility over the past few years. From harmonious and pale and pastel greens to moody and jewel-toned emeralds, green suits all styles in equal measure.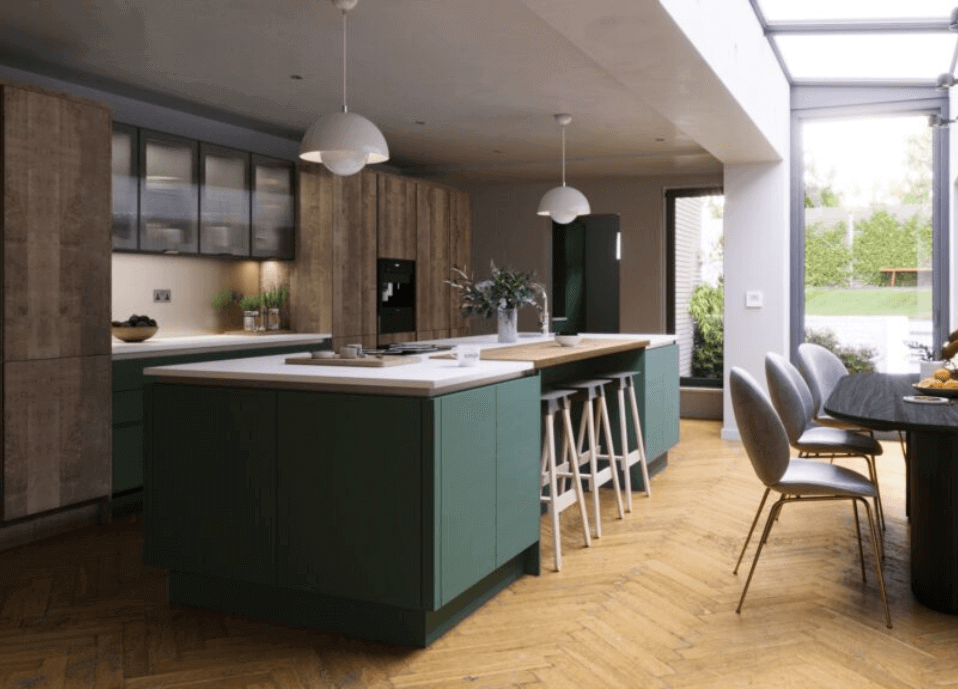 Make a traditional Victorian kitchen with our in-frame Hampton cabinets in the shade Spring. Or, make a modern loft with our matte seamless Jasper range in a warm Eden green. Wanting to make a more dramatic statement? Replace old cabinets with dark Grove Green from our shaker-style timber Vård range.
Pair with metals and woods with the same tints to embrace the warmth or coolness of the colour shade. Explore all our kitchen ranges HERE.
Refined Moroccan mosaics
For a simpler upgrade, consider replacing your backsplashes. It's a cost-efficient method that doesn't require a big investment and completely alters the style of a kitchen.
Glazed Tiles
Glazed tiles such as zellige tiles have seen a considerable resurgence this season in favour of matte tiles and laminates. Zellige tiles are traditional Moroccan tiles handcrafted from clay. These glossy tiles add artisan craftsmanship to your cooking room that is sturdy and stands the test of time. Paired with metallic handles, it elevates your kitchen to a luxurious and charming space.
Smile Kitchens is proud to partner with Baked Tiles Co, which specialises in decorative and high-quality tiles and offers a wide range of colourful and vibrant Zellige tiles in different shapes and colours. All Smile Kitchen customers offer 15% off Baked Tiles Co, contact your design consultant to access your discount code now. Explore our collection of backsplashes HERE.
Explore our brand partner Baked Tiles Co HERE.
Extending the kitchen outside
Bamboo Interior Design also recommends extending the kitchen inside to our outside areas as one of the best ways to connect with the natural world. One of the best ways to do this is by opening your kitchen layout to the garden.
Let your kitchen flow into an outside patio area for a Mediterranean-style ambiance. This elongates your cooking area and gives the illusion of a larger and longer kitchen. More importantly, it also conjoins the backyard to our homes and gives it a purpose. Add a long dining table for all your friends and family and add a gazebo or pergola that now gives you a year around outdoor kitchen regardless of the weather.
Finally, add a must-have grill and waterproof cabinetry for all your outdoor cooking and preparation that makes the family gatherings. For more inspiration and kitchen design ideas, explore our blog page HERE. Our kitchen designers with years of knowledge and expertise and can help you implement these styles for a refreshed and stylish kitchen.
Book a design consultation HERE to learn more.
All Smile Kitchens customers can get 10% off Kate Coslett's interior design packages with code 'BAMBOOMSK' at checkout to help complete all your interior home needs.
Discover Bamboo Interior's Website HERE.
Featured in