>
>
The 10 Best Kitchen Storage Solutions
Design Advice
The 10 Best Kitchen Storage Solutions
By Fraser Allison
5 minute read
Smart kitchen storage are one of the most efficient ways to optimise your kitchen and make your kitchen routines simpler. From corner pantry cupboards, larder units and butler pantries, discover our best storage solutions and how they can bring joy back to your cooking.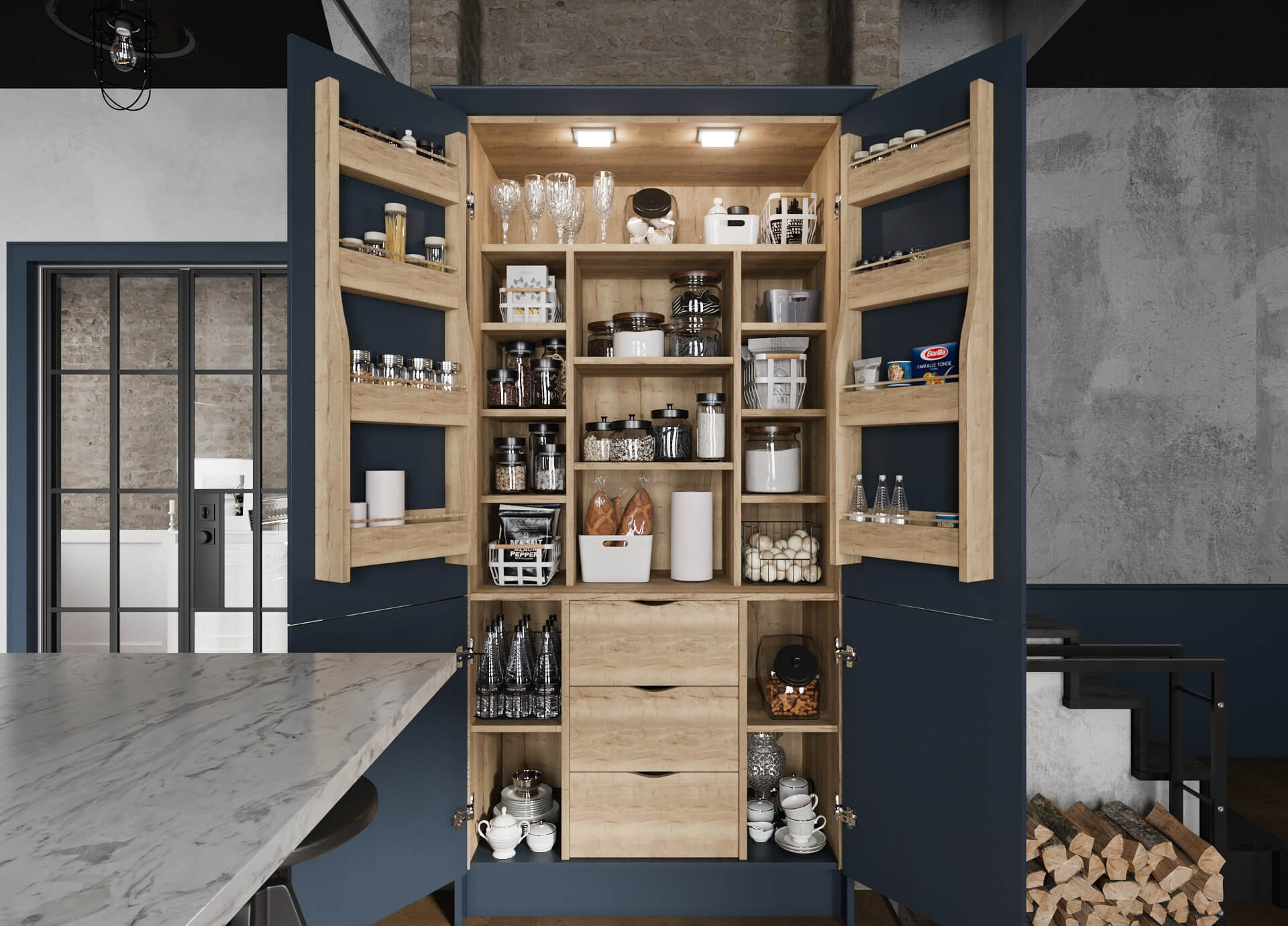 Efficient kitchen storage solutions can really take your kitchen design to the next level. Not only are they pleasing to the eye, but they can help to create a functional space and tailor your space for your needs.
Even in smaller spaces, clever storage organisation can transform the way you use your kitchen. We believe they should be practical, easy-to-use, and beautiful too. In this blog, we've highlighted our top 10 kitchen solutions to help you maximise your cooking space and organise it to its full potential.
1. Butler Pantry
A Butler's pantry is a large room or cabinet that originates from the storage room used by the butler in the past. The Butler's Pantry is a versatile cupboard that is expertly crafted to accommodate various household essentials, including snacks, kitchenware, glassware and kitchen appliances.
This clever combination of open shelves and deep drawers provides ample space and multi-purpose functions that can be organised to fit your unique lifestyle needs visually and practically.
Take this custom green Hampton Butler Pantry with sleek glass containers, solid worktops, a coffee station, and a free-standing microwave. It provides a range of possibilities, such as a breakfast bar for enjoying your morning coffee before a busy workday, countertops and a microwave that offer more workspace for cooking in the evenings, while the pull out drawers and racks prevent your main kitchen space from becoming cluttered.
2. Tandem Larder
Designed for storing food, the tandem larder unit is a large larder that can be integrated into your kitchen design. It's smaller than a pantry but a great way to efficiently plan your kitchen layout with an easy overview of all your food items. The name refers to how the drawers slides forward with the door – 'in tandem'. This means that when opening the door, the attached shelves move towards you for easy access so you can easily reach and view your items without needing to reach into the back of your cupboards.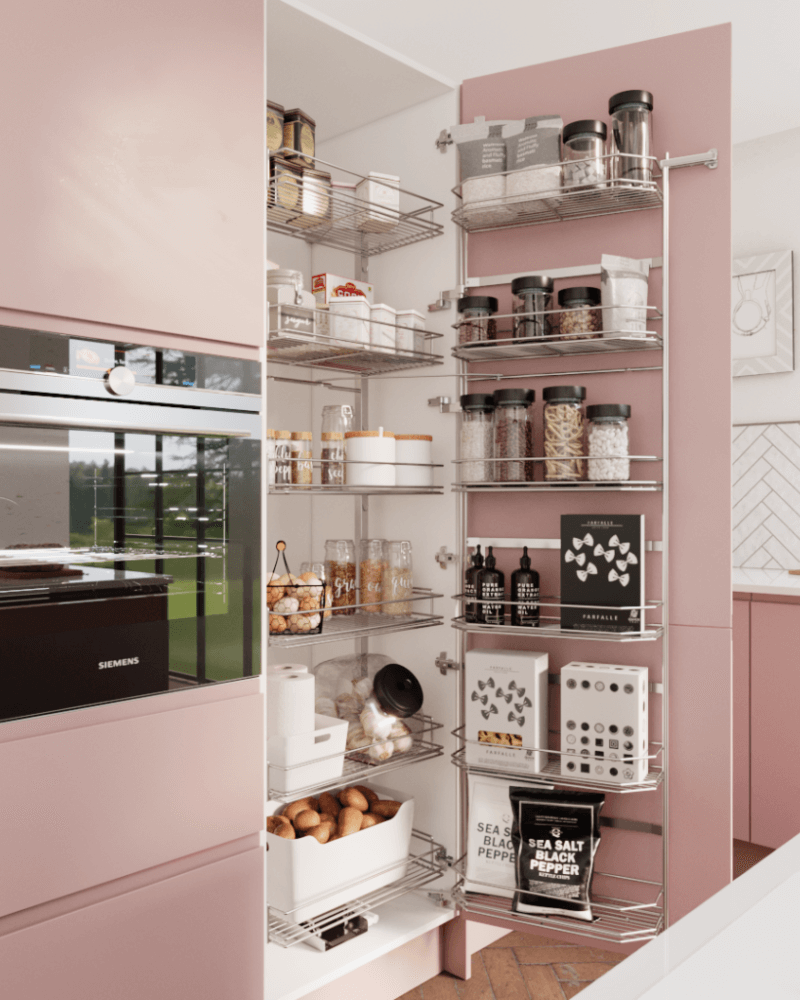 Available in all of our kitchen ranges.
3. Pull Out Towel Rail
Perfect for optimising those small spaces that could otherwise be wasted, the towel rail cabinet provides the perfect place to hide away your tea towels as well as space for bottles or cleaning products. It's best to keep this near your sink or washing-up area for easy access.
4. Integrated Bins
If you're searching for the most discreet and less time-consuming way to recycle, our hinged-door bins are the answer. Our 48L Eco Bin is designed to make recycling less time-consuming, with three compartments to make sorting your recycling a breeze, designed with generous space for all types of waste. Plus, it's not just for landfill waste – you can recycle all materials in this bin.
Explore our bins for more information.
5. Bifold Dresser
The Bifold Dresser is perfect for those looking to hide items away. Designed with bifold doors that seamlessly opens on each side, this cupboard allows you to create a beautiful breakfast area, coffee-making station, or a display for your favourite glassware. Whatever you choose to use this dresser for, it'll look beautiful doing it. With its bi-folding double doors and shelving space, this dresser has plenty of space for your smaller items and taller things like your kettle or toaster.
View hampton
Available in our Hampton kitchen range.
6. Corner Optimiser
Regain that wasted storage space with this beautiful storage solution that pulls out all the way so you can see and easily access every item in your cupboard. Its sturdy build and strong shelves mean it can hold the weight of all your tinned foods or be used to hold your plates or cookware. The Corner Optimiser is perfect for those difficult-to-reach corner units.
Available in all of our kitchen ranges.
7. Corner Pantry
The Corner Pantry is one of the most optimal storage solutions for awkward kitchen layouts with tricky corners. It gives you highly functional way of planning with large shelves for bulk items, similar to the Butler's Pantry. Rearrange the shelving inside to give yourself the perfect personalised solution. So, this beauty has space for it all, whether it's wine or towels, a mop or glassware.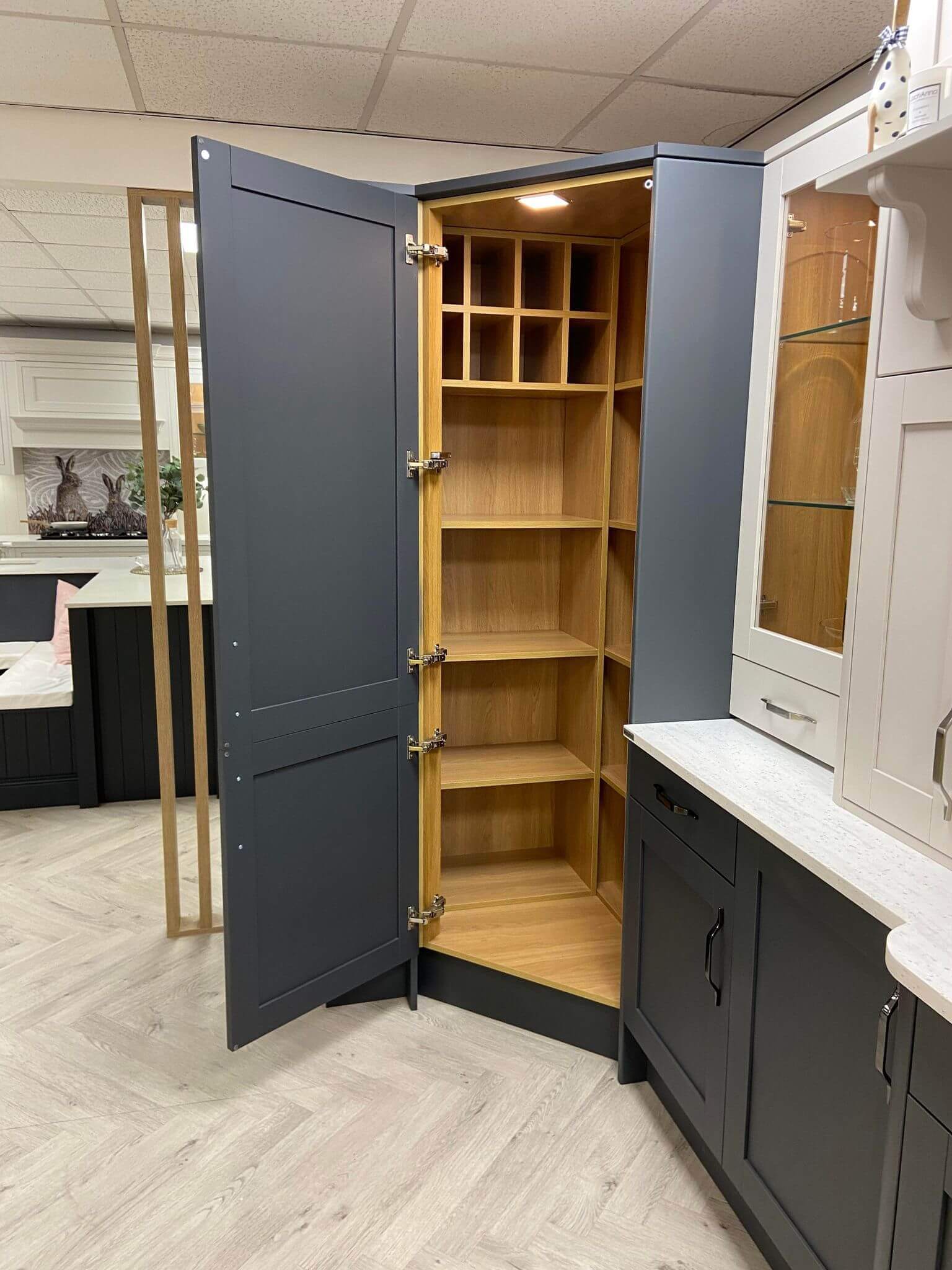 Available in our Vard and Hampton kitchen ranges.
8. Le Mans Corner Larder
A beautiful and sleek storage solution that combines both style and practicality. Each shelf slides out individually for super easy access. The Le Mans is perfect for food storage but its strong shelves can also hold lots of other items such as tableware and glassware.
Available in all of our kitchen ranges.
9. Corner Carousel
The 950 Corner Carousel is designed for quick access to your food items. It's perfect for jars and bottles. Simply spin the shelf around to the item you need! Its sturdy wire frame means you can hold plenty of items and you could even add in non-food items like tableware. With this clever food organiser, you also get space to the sides for those less frequently needed items.
Available in all of our kitchen ranges.
10. Internal Drawers
Arrange your drawer by hiding your cutlery tray within a larger pan drawer. This creates a minimalist sleek look by only having one drawer front.
Storage solutions
Find all our kitchen solutions in our storage solutions.
Our expert kitchen designers can help you get the most out of your kitchen space with our huge range of storage solutions available, contact us today to schedule your exclusive online design consultation.
Featured in